Ramoria is the Good city in the center of the map.  It is home to the Princess.
Merchants
Northwest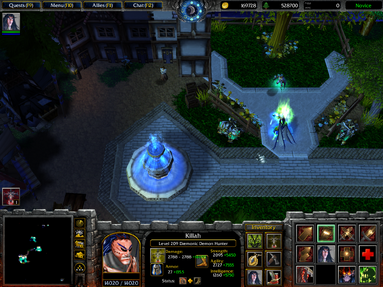 North
East
Center
Quests
Talk to the woman south of the Princess to recieve a letter for a woman in Fira. The woman in Fira is located to the west of the tavern. Reward - 750 Exp. Note: This can be repeated, but no exp is given.
Talk to the man next to the West entrance, and he will ask the player to retrieve his lost wedding ring. The ring is at a random locationi n the Ramoria Graveyard. Return it to him to complete the quest. Reward - ????
Properties
Tavern - Northeast - 12,500 Gold
Farm - Southeast - 25,000 Gold
Inn - South - 12,500 Gold
Housing
Demon Hunter - In the southwest corner
Points of Interest
There is an Arboris Fumo patch near the farm in the Southeast corner
Community content is available under
CC-BY-SA
unless otherwise noted.