Forging is a Skill that allows the hero to make items. To forge an item, visit the Forge with all the required ingredients in your hero's inventory.
Leveling
[
]
Your hero gains 10 exp everytime he mines for ore (with bonuses if he finds diamond or chronominium).
Each Ingot has a certain amount of EXP that will be provided when it is smelted.
The Forge also has the ability to consume all ingots in the hero's inventory and large amounts of EXP.
Smelting Exp
[
]
Training Exp
[
]
Mine Golem
[
]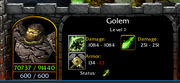 Appears randomly when you're mining. Drops large quantities of ore and ingots.
It's Stats depends on your level.
The golem is invulnerable, kill it with the Royal Magnus Song.
Forging Table
[
]
The following table shows every item that can be forged. In case of any discrepancy between the item page and the table, the item page will generally be correct.
Name
Req Forging
Req Ingredients
Req Lvl
Stats

Iron

[

]

Iron Sword (Right Hand)
1
2 Iron Ingots
1

+10 Damage
+2% crit chance
+.5 crit multiplier

Iron Hammer (Right Hand)
1
3 Iron Ingots
1

+15 Damage
+3% Knockback
+3% Bash

Iron Axe (Left Hand)
1
3 Iron Ingots
1

+10 Damage
+2% crit chance
+1.0 crit multiplier
+10% Cleave

Iron Bow (Left Hand)
1
3 Iron Ingots
1

+8 Damage
+2% crit chance
+1.0 crit multiplier

Iron Staff (Left Hand)
1
4 Iron Ingots
1
Iron Cuirass
1
6 Iron Ingots, 4 Leather
1

+5.4 Armor
+10% Block Chance
+10% Block Reduction

Iron Helm
1
3 Iron Ingots, 2 Leather
1

+2.3 Armor
+5% Block Chance
+10% Block Reduction

Iron Gauntlets
1
3 Iron Ingots, 2 Leather
1

+2.2 Armor
+4 Damage
+5% Block Chance
+5% Block Reduction
+3% Knockback

Iron Boots
1
3 Iron Ingots, 2 Leather
1

+2.2 Armor
+5% Block Chance
+5% Block Reduction
+2 Athletics

Iron Shield
1
3 Iron Ingots, 3 Leather
1

+2 Armor
+15% Block Chance
+20% Block Reduction

Steel

[

]

Steel Sword (Right Hand)
1
2 Steel Ingots
5

+50 Damage
+2% Critical Chance
+0.5 Critical Multiplier

Steel Hammer (Right Hand)
1
3 Steel Ingots
5

+75 Damage
+3% Knockback
+3% Bash

Steel Axe (Left Hand)
1
3 Steel Ingots
5

+75 Damage
+2% Critical Chance
+1.0 Critical Multiplier
+10% Cleave

Steel Bow (Left Hand)
1
2 Steel Ingots, 2 Leather
5

+40 Damage
+2% Critical Chance
+1.0 Critical Multiplier

Steel Staff (Left Hand)
1
4 Steel Ingots
5

+25 Int
+5% Spell Crit Chance
+.5 Spell Crit Multiplier

Steel Cuirass
1
6 Steel Ingots, 4 Leather
5

+7 armor
+10% Block Chance
+10% Block Reduction

Steel Helm
1
3 Steel Ingots, 2 Leather
5

+3.5 Armor
+5% Block Chance
+10% Block Reduction

Steel Gauntlets
1
3 Steel Ingots, 2 Leather
5

+3 Armor
+20 Damage
+5% Block Chance
+5% Block Reduction
+3% Knockback

Steel Boots
1
3 Steel Ingots, 2 Leather
5

+3 Armor
+5% Block Chance
+5% Block Reduction
+5% Evasion
+10 Athletics

Steel Shield
1
3 Steel Ingots, 3 Leather
5

+4.5 Armor
+15% Block Chance
+20% Block Reduction

Orcish

[

]

Orcish Sword
5
3 Steel Ingots
10

+100 Damage
+2% Critical Chance
+.5 Critical Multiplier

Orcish Axe
5
4 Steel Ingots
10

+150 Damage
+2% Critical Chance
+1.0 Critical Multiplier
+10% Cleave

Orcish Bow
5
3 Steel Ingots, 2 Leather
10

+80 Damage
+2% Critical Chance
+1.0 Critical Multiplier

Orcish Staff (Left Hand)
5
5 Steel Ingots
10

+50 Int
+5% Spell Critical Chance
+.50 Spell Critical Multiplier

Orcish Cuirass
5
4 Steel Ingots, 8 Leather
10

+9 Armor
+10% Block Chance
+10% Block Reduction

Orcish Helm
5
4 Steel Ingots, 2 Leather
10

+5 Armor
+5% Block Chance
+10% Block Reduction

Orcish Gauntlets
5
4 Steel Ingots, 2 Leather
10

+4 Armor
+40 Damage
+5% Block Chance
+5% Block Reduction
+5% Knockback

Orcish Boots
5
4 Steel Ingots, 2 Leather
10

+4 Armor
+5% Block Chance
+5% Block Reduction
+5% Evasion
+20 Athletics

Orcish Shield
5
4 Steel Ingots, 3 Leather
10

+5 Armor
+15% Block Chance
+20% Block Reduction

Carbon Steel

[

]

Royal Sword (Left Hand)
10
2 Carbon Steel Ingots
20

+200 Damage
+2% Crit Chance
+.5 Crit Multiplier

Royal Axe (Left Hand)
10
3 Carbon Steel Ingots
20

+300 Damage
+2% Critical Chance
+1.0 Critical Multiplier
+10% Cleave

Royal Bow (Left Hand)
10
2 Carbon Steel Ingots, 2 Leather
20

+160 Damage
+2% Critical Chance
+1.0 Critical Multiplier

Royal Staff
10
2 Carbon Steel Ingots
20

+100 Int
+5% Spell Crit Chance
+.5 Spell Crit Multiplier

Royal Cuirass
10
6 Carbon Steel Ingots, 4 Leather
20

+13 Armor
+10% Block Chance
+10% Block Reduction

Royal Helm
10
3 Carbon Steel Ingots, 2 Leather
20

+8 Armor
+5% Block Chance
+10% Block Reduction

Royal Gauntlets
10
3 Carbon Steel Ingots, 2 Leather
20

+6 Armor
+80 Damage
+5% Block Chance
+5% Block Reduction
+3% Knockback

Royal Boots
10
3 Carbon Steel Ingots, 2 Leather
20

+4 Armor
+5% Block Chance
+5% Block Reduction
+5% Evasion
+40 Athletics

Royal Shield
10
4 Carbon Steel Ingots, 3 Leather
20

+9 Armor
+15% Block Chance
+20% Block Reduction

Royal Set
10
50 Carbon Steel Ingots, 10 Leather
25

+38 Armor
+10% Evasion
+10% Block Chance
+20% Block Reduction

Diamond

[

]

Diamond Sword (Right Hand)
15
2 Diamond Steel Ingots
35

+350 Damage
+2% Critical Chance
+.5 Critical Multiplier

Diamond Axe
15
3 Diamond Steel Ingots
35

+525 Damage
+2% Critical Chancel
+1.0 Critical Multiplier
+10% Cleave

Diamond Bow (Left Hand)
15
2 Diamond Steel Ingots, 2 Leather
35

+280 Damage
+2% Critical Chance
+1.0 Multiplier

Diamond Staff (Left Hand)
15
2 Diamond Steel Ingots
35
Diamond Cuirass
15
6 Diamond Steel Ingots, 4 Leather
35

+19 Armor
+10% Block Chance
+10% Block Reduction

Diamond Helm
15
3 Diamond Steel Ingots, 2 Leather
35

+12.5 Armor
+5% Block Chance
+10% Block Reduction

Diamond Boots
15
3 Diamond Steel Ingots, 2 Leather
35

+9 Armor
+5% Block Chance
+5% Block Reduction
+5% Evasion
+70 Athletics

Diamond Gauntlets
15
3 Diamond Steel Ingots, 2 Leather
35

+9 Armor
+140 Damage
+5% Block Chance
+5% Block Reduction
+3% Knockback

Diamond Shield
15
3 Diamond Steel Ingots, 3 Leather
35

+13.5 Armor
+15% Block Chance
+20* Block Reduction

Diamond Set
15
50 Diamond Steel Ingots, 10 Leather
40

+49.5 Armor
+10% Block Chance
+20% Block Reduction
+10% Evasion

Chronominium

[

]

Chronominium Sword
20
2 Chronominium Ingots
50

+500 Damage
+2% Critical Chance
+.5 Critical Multiplier

Chronominium Bow (Left Hand)
20
2 Chronominium Ingots, 2 Leather
50

+400 Damage
+2% Critical Chance
+1.0 Critical Multiplier

Chronominium Staff (Left Hand)
20
3 Chronominium Ingots
50

+250 Intelligence
+5% Spell Crit Chance
+.5 Spell Crit Multiplier

Chronominium Cuirass
20
6 Chronominium Ingots, 4 Leather
50

+25 Armor (tooltip says 60)
+10% Block Chance
+10% Block Reduction

Chronominium Helm
20
3 Chronominium Ingots, 2 Leather
50

+17 Armor
+5% Block Chance
10% Block Reduction

Chronominium Boots
20
3 Chronominium Ingots, 2 Leather
50

+12 Armor
+5% Evasion
+5% Block Chance
+5% Block Reduction
+110 Athletics

Chronominium Gauntlets
20
3 Chronominium Ingots, 2 Leather
50

+12 Armor
+200 Damage
+5% Block CHance
+5% Block Reduction
+3% Knockback

Chronominium Shield
20
3 Chronominium Ingots, 3 Leather
50

+18 Armor
+15% Block Chance
+20% Block Reduction

Chronominium Set
20
50 Chronominium Ingots, 10 Leather
50

+66 Armor
+10% Block Chance
+20% Block Reduction
+10% Evasion

Ancient

[

]

Ancient Sword
25
2 Diamond Steel Ingots, 1 Gold Ingot
75

+750 Damage
+2% Critical Chance
+.5 Critical Multiplier

Ancient Axe
25
3 Diamond Steel Ingots, 1 Gold Ingot
75

+1000 Damage
+2% Critical Chance
+1.0 Critical Multiplier
+10% Cleaving

Ancient Bow
25
3 Diamond Steel Ingots, 2 Leather
75

+600 Damage
+2% Critical Chance
+1.0 Critical Multiplier

Ancient Staff
25
2 Diamond Steel Ingots, 1 Gold Ingot
75

+375 Int
+5% Spell Critical Chance
+.5 Critical Multiplier

Ancient Cuirass
25
6 Diamond Steel Ingots, 2 Gold Ingots, 4 Leather
75

+35 Armor
+10% Block Chance
+10% Block Reduction

Ancient Helm
25
3 Diamond Steel Ingots, 1 Gold Ingots, 2 Leather
75

+24.5 Armor
+5% Block Chance
+10% Block Reduction

Ancient Boots
25
3 Diamond Steel Ingots, 1 Gold Ingots, 2 Leather
75

+17 Armor
+5% Block Chance
+5% Block Reduction
+5% Evasion
+150 Athletics

Ancient Gauntlets
25
3 Diamond Steel Ingots, 1 Gold Ingots, 2 Leather
75

+17 Armor
+300 Damage
+5% Block Chance
+5% Block Reduction
+3% Knockback

Ancient Shield
25
3 Diamond Steel Ingots, 1 Gold Ingots, 3 Leather
75

+25.5 Armor
+15% Block Chance
+20% Block Reduction

Ancient Set
25
50 Diamond Steel Ingots, 10 Gold Ingots, 10 Leather
75

+93.5 Armor
+10% Evasion
+10% Block Chance
+20% Block reduction

Draconian

[

]

Draconian Sword
30
2 Draconian Ingots
100

+1000 Damage
+2% Critical Chance
+0.5 Critical Multiplier

Draconian Axe
30
3 Draconian Ingots
100

+1500 Damage
+2% Critical Chance
+1.0 Critical Multiplier
10% Cleave

Draconian Bow
30
3 Draconian Ingots, 2 Leather
100

+800 Damage
+2% Critical Chance
+1.0 Critical Multiplier

Draconian Staff
30
4 Draconian Ingots
100

+500 Int
+5% Spell Critical Chance
+0.50 Spell Critical Multiplier

Draconian Cuirass
30
6 Draconian Ingots, 2 Gold Ingots, 1 Leather
100

+45 Armor
+10% Block Chance
+10% Block Reduction

Draconian Helm
30
3 Draconian Ingots, 2 Leather
100

+32 Armor
+5% Block Chance
+10% Block Reduction

Draconian Boots
30
3 Draconian Ingots, 2 Leather
100

+22 Armor
+5% Block Chance
+5% Block Reduction
+5% Evasion
+200 Athletics

Draconian Gauntlets
30
3 Draconian Ingots, 2 Leather
100

+22 Armor
+400 Damage
+5% Block Chance
+5% Block Reduction
+3% Knockback

Draconian Shield
30
3 Draconian Ingots, 3 Leather
100

+33 Armor
+15% Block Chance
+20% Block Reduction

Infernal

[

]

Infernal Sword
35
2 Infernium Ingots
150

+1500 Damage
+2% Critical Chance
+0.5 Critical Multiplier

Infernal Hammer
35
3 Infernium Ingots
100

+1500 Damage
+2% Critical Chance
+0.75 Critical Multiplier
+3% knockback
+3% Bash
Infernal Bash: 40k Damage
(Activates switches inside Hell)

Infernal Bow
35
2 Infernium Ingots, 2 Leather
150

+1200 Damage
+2% Critical Chance
+1.0 Critical Multiplier

Infernal Staff
35
4 Infernium Ingots
150

+750 Int
+5% Spell Critical Chance
+0.50 Spell Critical Multiplier

Infernal Cuirass
35
6 Infernium Ingots, 4 Leather
150

+65 Armor
+10% Block Chance
+10% Block Reduction

Infernal Helm
35
3 Infernium Ingots, 2 Leather
150

+47 Armor
+5% Block Chance
+10% Block Reduction

Infernal Boots
35
3 Infernium Ingots, 2 Leather
150

+32 Armor
+5% Block Chance
+5% Block Reduction
+5% Evasion
+300 Athletics

Infernal Gauntlets
35
3 Infernium Ingots, 2 Leather
150

+32 Armor
+600 Damage
+5% Block Chance
+5% Block Reduction
+3% Knockback

Infernal Shield
35
3 Infernium Ingots, 3 Leather
150

+48 Armor
+15% Block Chance
+20% Block Reduction

Divine

[

]

Divine Sword
40
2 Silentium Ingots
200

+2000 Damage
+2% Critical Chance
+0.5 Critical Multiplier

Divine Bow
40
3 Silentium Ingots, 2 Leather
200

+1600 Damage
+2% Critical Chance
+1.0 Critical Multiplier

Divine Staff
40
4 Silentium Ingots
200

+1000 Int
+5% Spell Critical Chance
+0.50 Spell Critical Multiplier

Divine Cuirass
40
6 Silentium Ingots, 4 Leather
200

+85 Armor
+10% Block Chance
+10% Block Reduction

Divine Helm
40
3 Silentium Ingots, 2 Leather
200

+62 Armor
+5% Block Chance
+10% Block Reduction

Divine Boots
40
3 Silentium Ingots, 2 Leather
200

+42 Armor
+5% Block Chance
+5% Block Reduction
+5% Evasion
+400 Athletics

Divine Gauntlets
40
3 Silentium Ingots, 2 Leather
200

+42 Armor
+800 Damage
+5% Block Chance
+5% Block Reduction
+3% Knockback

Divine Shield
40
3 Silentium Ingots, 3 Leather
200

+63 Armor
+15% Block Chance
+20% Block Reduction

Demon

[

]

Demon Sword
45
3 Infernium Ingots
250

+2500 Damage
+2% Critical Chance
+0.5 Critical Multiplier

Demon Bow
45
4 Infernium Ingots, 2 Leather
250

+2000 Damage
+2% Critical Chance
+1.0 Critical Multiplier

Demon Staff
45
5 Infernium Ingots
250

+1250 Int
+5% Spell Critical Chance
+0.50 Spell Critical Multiplier

Demon Cuirass
45
8 Infernium Ingots, 4 Leather
250

+105 Armor
+10% Block Chance
+10% Block Reduction

Demon Helm
45
4 Infernium Ingots, 2 Leather
250

+77 Armor
+5% Block Chance
+10% Block Reduction

Demon Boots
45
4 Infernium Ingots, 2 Leather
250

+52 Armor
+5% Block Chance
+5% Block Reduction
+5% Evasion
+500 Athletics

Demon Gauntlets
45
4 Infernium Ingots, 2 Leather
250

+52 Armor
+1000 Damage
+5% Block Chance
+5% Block Reduction
+3% Knockback

Demon Shield
45
4 Infernium Ingots, 3 Leather
250

+78 Armor
+15% Block Chance
+20% Block Reduction

Daemonic

[

]

Daemonic Bow
50
2 Infernium Ingots, 2 Silentium Ingots, 2 Leather
325

+2600 Damage
+2% Critical Chance
+1.0 Critical Multiplier

Daemonic Staff
50
3 Infernium Ingots, 3 Silentium Ingots
325

+1625 Int
+5% Spell Critical Chance
+0.50 Spell Critical Multiplier

Daemonic Cuirass
50
4 Infernium Ingots, 4 Silentium Ingots, 4 Leather
325

+135 Armor
+10% Block Chance
+10% Block Reduction

Daemonic Helm
50
2 Infernium Ingots, 2 Silentium Ingots, 2 Leather
325

+99.5 Armor
+5% Block Chance
+10% Block Reduction

Daemonic Boots
50
2 Infernium Ingots, 2 Silentium Ingots, 2 Leather
325

+67 Armor
+5% Block Chance
+5% Block Reduction
+5% Evasion
+650 Athletics

Daemonic Gauntlets
50
2 Infernium Ingots, 2 Silentium Ingots, 2 Leather
325

+67 Armor
+1300 Damage
+5% Block Chance
+5% Block Reduction
+3% Knockback

Daemonic Shield
50
3 Infernium Ingots, 3 Silentium Ingots, 3 Leather
325

+100.5 Armor
+15% Block Chance
+20% Block Reduction
Reforging

[

]

To Reforge items have only the item you are reforging and the materials required in your inventory.

Apocalyptica (Reforged)
75 Forging
Apocalyptica
300

+3000 Dmg
+3000 Agi
+5% Block Chance
+5% Block Reduction
+2% Critical Chance
+0.50 Critical Multipliers
+5% Reflect
+20% Haste
+20% Cleave

Bonuses:

Killer Instinct (Assassin)
Eclipse (Vampire)

Baella
75 Forging
Divine Bow of the Heavens

100 Gold Ingot

100 Silentium Ingot

350

+2800 Dmg
+3500 Agi
+122,500 Life
+5% Evasion
+20% Haste

Bonuses:

Rain of Arrows (Ranger)
Ultimate Arrow (Ranger)

Blacks Pirate's Hat (Reforged)
75 Forging
Blacks Pirate's Hat

100 Leather

100 Gold Ingot

350

+1750 Stats
+107 Armor
+5% Block Chance
+10% Block Reduction
+5% Spell Absoption
+10% Ability Power
+150k Life
+150 life/sec
+5% Lifesteal

DeathSlicers (Reforged)
75 Forging
Death's Slicer

100 Gold Ingot

350

+5250 Dmg
+1750 Stats
+7% Critical Chance
+2.0 Critical Multiplier
+10% Ability Power
+5% Life Steal
+5% Spell Reflect
+5% Spell Absorb
+15% Spell Critical Chance
+1.0 Spell Critical Multiplier

Bonuses:

Fingers of Death (Necro, Death)
Circle of Death (Death)

El Morte
75 Forging
Diablo's Sword

100 Gold Ingot

100 Infernium Ingot

350

+3500 Dmg
+3500 Str
+2% Critical Chance
+1.0 Critical Multiplier

Abilities:

Reflect Resilience: Attack
Diablos Legion: Summon 6 Diablo's Infernals
Critical Life: 1% to deal 1% life Damage

Bonuses:

Fallen Light (Warrior)
HellStorm (Darklord)
Comet Strike (Demon Hunter)
Super Daemonic Blast (Warrior)

Excalibur (Reforged)
75 Forging
True Excalibur

100 Silentium Ingot

100 Gold Ingot

400

+4000 Dmg
+4000 Str
400 life/sec
2% Critical Chance
1.0 Critical Multiplier

Abilities

Bonuses:

Daemonic Blast (Warrior)
Super Daemonic Blast (Warrior)
Smite/Holy Blast (Paladin)
Heroes Bolt/HolyStorm (General)
Silence of Angels (General Evo)

Golden Boots (Reforged)
75 Forging
Golden Boots (Enhanced)

50 Leather

100 Silentium Ingot

100 Gold Ingot

400

+82 Armor
+4000 Agility
+5% Block Chance
+5% Block Reduction
+10% Evasion
Haste Aura: 15%
Boots of the Gods Aura: Heal 550 hp/sec + Max Athletics
Bonuses:

Killer Instinct (Assassin)
Power Shot/Blessed (Ranger)

Golden Gauntlets (Reforged)
75 Forging
Golden Gauntlets

100 Silentium Ingot

100 Gold Ingot

350

+72 Armor
+3500 Strength
+122,500 Life
+3% Knockback
+10% Block Chance
+10% Block Reduction
+0.25 Critical Multiplier

Abilities:

Bonuses:

Heal, Mystic Healing (Paladin)
Heavenly Rain (Paladin)
Aurora, Daemonic Blast (Warrior)

Golden Helm (Reforged)
75 Forging
Golden Helm

100 Silentium Ingot

100 Gold Ingot

350

+107 Armor
+1750 Stats
+5% Block Chance
+10% Block Reduction
+5% Spell Absorption
+10% Ability Power

Abilities:

Resist: Reflect
Resist: Spell Reflect

Bonuses:

Heavenly Rain (Paladin)
Chaos of thunder (General)
Holy Storm (General)

Hydraell (Reforged)
75 Forging
Hydraell

100 Silentium Ingot

100 Draconian Ingot

400

+4000 Dmg
+4000 Agi
+160,000 Life
+5% Block Chance
+5% Block Reduction
+2% Critical Chance
+0.5 Critical Multiplier
+10% Haste

Bonuses:

Throw Knife/Shuriken (Assassin)
BackStab/Backstrike (Assassin)

Infernal Hammer (reforged)
75 Forging
Infernal Hammer

100 Infernium Ingot

200

+3000 Dmg
+2000 Str
+3% Knockback
+3% Bash
+5% Critical Chance
+1.25 Critical Multiplier
Smash (Strength x4)

Needle (Reforged)
75 Forging
Needle

100 Gold Ingot

350

+3500 Dmg
+3500 Agi
+5% Block Chance
+5% Block Reduction
+2% Block Chance
+0.50 Crit Multiplier
+15% Haste

Abilities:

Bonuses:

Throw Knife/Shuriken (Assassin)
BackStab/Backstrike (Assassin)
Killer Instinct (Assassin)

Rusty Armor Set (Reforged)
75 Forging
Rusty Armor Set

100 Gold Ingot

50 Leather

N/A

Scythius (Reforged)
75 Forging
Scythius

100 Gold Ingot

350

+6000 Dmg
+4000 Int
+400 Life Regeneration
+5% Lifesteal
+5% Spell Absorption
+5% Critical Chance
+1.5 Critical Multiplier
+10% Spell Critical Chance
+0.50 Multiplier

Bonuses:

Exocism (Necro)
Finger of Death (Necro, Death)
Seven Hells (Death)
Fury of Nature (Wizard)
Lifestream/Soul Drain (Wizard, Death)

Winged Skulls (Reforged)
75 Forging
Winged Skulls

100 Draconian Ingot

400

+123 Armor
+2000 Stats
+25% Block Chance
+30% Block Reduction
+5% Resistances
Multishot: 3 targets