Forging is a Skill that allows the hero to make items. To forge an item, visit the Forge with all the required ingredients in your hero's inventory.
Leveling
Each Ingot has a certain amount of EXP that will be provided when it is used to craft an item. The Forge also has the ability to consume all ingots in the hero's inventory and large amounts of EXP.
Mine Golem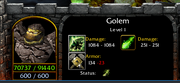 Appears randomly when your mining. Drops large quantities of ore and ingots
Life: 91440
Armor: 134
Damage 1084
Forging Table
The following table shows every item that can be forged. In case of any discrepancy between the item page and the table, the item page will generally be correct.
Name
Req Forging
Req Ingredients
Req Lvl
Stats

Iron

Iron Sword (Right Hand)
1
2 Iron Ingots
0

+25 Damage
3% Chance to deal 1.5X Damage

Iron Hammer (Right Hand)
1
3 Iron Ingots
0
Iron Axe (Left Hand)
1
3 Iron Ingots
0

+30 Damage
Bleed: 5% Chance to Bleed 3% Current Life/Sec for 3 Secs
Cleave: 5%

Iron Bow (Left Hand)
1
3 Iron Ingots
0

+25 Damage
Deadly Range: Bonus Agility Damage within 300 range

Iron Staff (Left Hand)
1
4 Iron Ingots
0
Iron Cuirass
1
6 Iron Ingots, 4 Leather
0
Iron Helm
1
3 Iron Ingots, 2 Leather
0
Iron Gauntlets
1
3 Iron Ingots, 2 Leather
0
Iron Boots
1
3 Iron Ingots, 2 Leather
0
Iron Shield
1
3 Iron Ingots, 3 Leather
0

Steel

Steel Sword (Right Hand)
5
2 Steel Ingots
3

+50 Damage
3% Chance to Deal 1.5x Damage

Steel Hammer (Right Hand)
5
3 Steel Ingots
3
Steel Axe (Left Hand)
5
3 Steel Ingots
3

+75 Damage
Bleed: 5% chance to Bleed 3% current life/sec for 3 seconds
Cleave: 5%

Steel Bow (Left Hand)
5
2 Steel Ingots, 2 Leather
4

+50 Damage
Deadly Range: Bonus Agility Damage within 300 Range

Steel Staff (Left Hand)
5
4 Steel Ingots
4
Steel Cuirass
5
6 Steel Ingots, 4 Leather
5

+10 armor
+5% Spell Reduction

Steel Helm
5
3 Steel Ingots, 2 Leather
3
Steel Gauntlets
5
3 Steel Ingots, 2 Leather
3
Steel Boots
5
3 Steel Ingots, 2 Leather
3
Steel Shield
5
3 Steel Ingots, 3 Leather
3

Orcish

Orcish Sword
10
3 Steel Ingots
10

+100 Damage
3% Chance to deal 1.5x Damage

Orcish Axe
10
4 Steel Ingots
11

+155 Damage
5% chance to Bleed 5$ current life/sec for 3 secs

Orcish Bow
10
3 Steel Ingots, 2 Leather
10

75 Damage
75 Agility
Deadly Range: Bonus Agility Damage within 300 Range

Orcish Staff (Left Hand)
10
5 Steel Ingots
9
Orcish Cuirass
10
4 Steel Ingots, 8 Leather
12

+15 Armor
10% Spell Reduction

Orcish Helm
10
4 Steel Ingots, 2 Leather
9
Orcish Gauntlets
10
4 Steel Ingots, 2 Leather
8
Orcish Boots
10
4 Steel Ingots, 2 Leather
9
Orcish Shield
10
4 Steel Ingots, 3 Leather
9

Gold

Gold Ring
15
1 Gold Ingot
15
No Stats

Carbon Steel

Royal Sword (Left Hand)
25
2 Carbon Steel Ingots
18

+250 Damage
5% chance to Crit for 2x Damage

Royal Axe (Left Hand)
25
3 Carbon Steel Ingots
20
Royal Bow (Left Hand)
25
2 Carbon Steel Ingots, 2 Leather
18

+175 Damage
Deadly Range: Bonus Agility Damage within 300 Range

Royal Staff
25
2 Carbon Steel Ingots
18
Royal Cuirass
25
6 Carbon Steel Ingots, 4 Leather
22

+20 Armor
+15% Spell Reduction

Royal Helm
25
3 Carbon Steel Ingots, 2 Leather
18
Royal Gauntlets
25
3 Carbon Steel Ingots, 2 Leather
17
Royal Boots
25
3 Carbon Steel Ingots, 2 Leather
17
Royal Shield
25
4 Carbon Steel Ingots, 3 Leather
19

Diamond

Diamond Sword (Right Hand)
35
2 Diamond Steel Ingots
35

Damage + 400
5% Chance to deal 2x Damage

Diamond Axe
35
3 Diamond Steel Ingots
37
Diamond Bow (Left Hand)
35
2 Diamond Steel Ingots, 2 Leather
33

Damage +350
Deadly Range: Bonus Agility Damage within 300 Range

Diamond Staff (Left Hand)
35
2 Diamond Steel Ingots
25
Diamond Cuirass
35
6 Diamond Steel Ingots, 4 Leather
37

+40 Armor
+20% Spell Reduction

Diamond Helm
35
3 Diamond Steel Ingots, 2 Leather
30
Diamond Boots
35
3 Diamond Steel Ingots, 2 Leather
28
Diamond Gauntlets
35
3 Diamond Steel Ingots, 2 Leather
28
Diamond Shield
35
3 Diamond Steel Ingots, 3 Leather
30

Chronominium

Chronominium Sword
50
2 Chronominium Ingots
50

+600 Damage
5% Chance to Deal 2x Damage

Chronominium Bow (Left Hand)
50
2 Chronominium Ingots, 2 Leather
52

+500 Damage
Deadly Range: Bonus Agility Damage within 300 Range

Chronominium Staff (Left Hand)
50
3 Chronominium Ingots
47
Chronominium Cuirass
50
6 Chronominium Ingots, 4 Leather
56
Chronominium Helm
50
3 Chronominium Ingots, 2 Leather
45
Chronominium Boots
50
3 Chronominium Ingots, 2 Leather
45
Chronominium Gauntlets
50
3 Chronominium Ingots, 2 Leather
48
Chronominium Shield
50
3 Chronominium Ingots, 3 Leather
45

Ancient

Ancient Sword
65
2 Diamond Steel Ingots, 1 Gold Ingot
75

+900 Damage
5% Chance to deal 2x Damage

Ancient Axe
65
3 Diamond Steel Ingots, 1 Gold Ingot
75

+1050 Damage
Bleed: 5% Chance to bleed 3% current life for 3 Seconds

Ancient Bow
65
3 Diamond Steel Ingots, 2 Leather
75

+750 Damage
Deadly Range: Bonus Agility Damage within 300 Range

Ancient Staff
65
2 Diamond Steel Ingots, 1 Gold Ingot
72
Ancient Cuirass
65
6 Diamond Steel Ingots, 2 Gold Ingots, 4 Leather
80

+80 Armor
+30% Spell Reduction

Ancient Helm
65
3 Diamond Steel Ingots, 1 Gold Ingots, 2 Leather
70
Ancient Boots
65
3 Diamond Steel Ingots, 1 Gold Ingots, 2 Leather
71
Ancient Gauntlets
65
3 Diamond Steel Ingots, 1 Gold Ingots, 2 Leather
72
Ancient Shield
65
3 Diamond Steel Ingots, 1 Gold Ingots, 3 Leather
75

+40 Armor
Block: 15% Chance

Draconian

Draconian Sword
75
2 Draconian Ingots
100

+1250 Damage
6% Chance to deal 2.5x Damage

Draconian Axe
75
3 Draconian Ingots
107

+1000 Damage
6% Chance to deal 2.5x Damage

Draconian Bow
75
3 Draconian Ingots, 2 Leather
95

+750 Damage***
Deadly Range: Bonus Agility Damage within 300 Range

Draconian Staff
75
4 Draconian Ingots
95
Draconian Cuirass
75
6 Draconian Ingots, 2 Gold Ingots, 1 Leather
110

+100 Armor
+35% Spell Reduction

Draconian Helm
75
3 Draconian Ingots, 2 Leather
100
Draconian Boots
75
3 Draconian Ingots, 2 Leather
95
Draconian Gauntlets
75
3 Draconian Ingots, 2 Leather
96
Draconian Shield
75
3 Draconian Ingots, 3 Leather
100

+50 Armor
Block: 19% Chance

Infernal

Infernal Sword
80
2 Infernium Ingots
150

+1750 Damage
6% Chance to deal 2.5x Damage

Infernal Hammer
80
3 Infernium Ingots
100

+3500 Damage
Bash 3%
Infernal Bash: 40k Damage
(Activates switches inside Hell)

Infernal Bow
80
2 Infernium Ingots, 2 Leather
155

+1450 Damage
Deadly Range: Bonus Agility Damage within 300 Range

Infernal Staff
80
4 Infernium Ingots
145
Infernal Cuirass
80
6 Infernal Ingots, 4 Leather
160

+120 Armor
+40% Spell Reduction

Infernal Helm
80
3 Infernium Ingots, 2 Leather
144
Infernal Boots
80
3 Infernium Ingots, 2 Leather
143
Infernal Gauntlets
80
3 Infernium Ingots, 2 Leather
145
Infernal Shield
80
3 Infernium Ingots, 3 Leather
150

+60 Armor
Block: 21% Chance

Divine
Divine Sword
85
2 Silentium Ingots
200

+2750 Damage
8% Chance to deal 3x Damage

Divine Bow
85
3 Silentium Ingots, 2 Leather
210

+2150 Damage
Deadly Range: Bonus Agility Damage within 300 Range

Divine Staff
85
4 Silentium Ingots
204
Divine Cuirass
85
6 Silentium Ingots, 4 Leather
210

+140 Armor
+45% Spell Reduction

Divine Helm
85
3 Silentium Ingots, 2 Leather
200
Divine Boots
85
3 Silentium Ingots, 2 Leather
195
Divine Gauntlets
85
3 Silentium Ingots, 2 Leather
194
Divine Shield
85
3 Silentium Ingots, 3 Leather
190

+70 Armor
Block: 23% Chance

Demon

Demon Sword
90
3 Infernium Ingots
250

+3500 Damage
8% Chance to deal 3x Damage

Demon Bow
90
4 Infernium Ingots, 2 Leather
245

+2750 Damage
Deadly Range: Bonus Agility Damage within 300 Range

Demon Staff
90
5 Infernium Ingots
244
Demon Cuirass
90
8 Infernium Ingots, 4 Leather
260

+160 Armor
+50% Spell Reduction

Demon Helm
90
4 Infernium Ingots, 2 Leather
250
Demon Boots
90
4 Infernium Ingots, 2 Leather
245
Demon Gauntlets
90
4 Infernium Ingots, 2 Leather
244
Demon Shield
90
4 Infernium Ingots, 3 Leather
245

+80 Armor
Block: 25% Chance

Daemonic

Daemonic Bow
95
2 Infernium Ingots, 2 Silentium Ingots, 2 Leather
310

+3550 Damage
Deadly Range: Bonus Agility Damage within 300 Range

Daemonic Staff
95
3 Infernium Ingots, 3 Silentium Ingots
310
Daemonic Cuirass
95
4 Infernium Ingots, 4 Silentium Ingots, 4 Leather
325

+180 Armor
+50% Spell Reduction

Daemonic Helm
95
2 Infernium Ingots, 2 Silentium Ingots, 2 Leather
275
Daemonic Boots
95
2 Infernium Ingots, 2 Silentium Ingots, 2 Leather
325

+45 Armor
+1000 Athletics

Daemonic Gauntlets
95
2 Infernium Ingots, 2 Silentium Ingots, 2 Leather
315
Daemonic Shield
95
3 Infernium Ingots, 3 Silentium Ingots, 3 Leather
310

+80 Armor
Block: 25% Chance