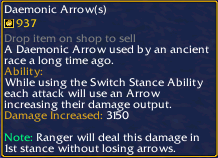 Arrows are needed for Stance 2, which adds 300-400 range to your hero's attack and additional damage, but consumes one arrow per attack.
Arrows are stored in your backpack, so they don't take up precious Equipment Slots, but they do require a bow to work. Bow and Arrows are a great way to add range to melee heroes.
Note: rangers get bonus damage (but not the range bonus) from arrows while in Stance 1, and don't lose any arrows in that stance.