Enchant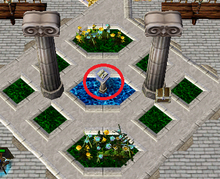 The Enchanting Pedestal is used to enchant items, usually with Prasinus Stones, Caeruleus Stones, Rubra Stones, and Potentia Stones. This usually adds stat bonuses and other effects to the base stats. Sometimes you can obtain unique items through enchantment.
Train Speechcraft
The player can use them to consume all Prasinus Stone, Rubra Stone, and Caeruleus Stone in their inventory for 25 Speechcraft EXP each, or Potentia Stones for 75 Speechcraft.
​Forged Items Enchanting Table
Items marked with ** and colored orange are currently unobtainable through enchantment as of v6.68
Stats marked with *** and colored yellow have tooltip errors as of v6.68.
Name
Req Lvl
Req Ingredients
Req Speechcraft
Stats

Iron

Iron Sword (Right Hand)

Iron Sword of Strength
1
1 Iron Sword
0 Speechcraft

+25 Damage
+15 Strength
3% Chance to deal 1.5X Damage

Iron Sword of Agility
1
1 Iron Sword
0 Speechcraft

+25 Damage
+15 Agility
3% Chance to deal 1.5X Damage

Iron Sword of Power
1
1 Iron Sword
0 Speechcraft

+25 Damag
+15 Stats
3% Chance to deal 1.5X Damage

Iron Hammer (Right Hand)

No upgrade
1
Iron Hammer
N/A

Iron Axe (left Hand)

No upgrade
1
Iron Axe
N/A

+30 Damage
Bleed: 5% to bleed 3% Current Life/second for 3sec.
Cleave: 5%

Iron Staff ​(left Hand)

Iron Staff of Magic
1
0 Speechcraft

+30 Intelligence
Staff of Magic Aura: +2 Mana Regeneration to nearby units

Iron Staff of Defense
1
1 Iron Staff

0 Speechcraft

+15 Intelligence
+15 Agility
Magic Shield: 10 Second Duration

Iron Bow

Iron Bow of Power
1

1 Iron Bow

0 Speechcraft

+25 Damage***
+15 Stats
Deadly Range: Bonus Agility damage within 300 range

Iron Cuirass

Iron Cuirass
1
0 Speechcraft

Iron Helm

Iron Helm of Intelligence
1
0 Speechcraft

+2 Armor
+15 Intelligence

Iron Gauntlets

Iron Gauntlets of Strength
1
0 Speechcraft

+1 Armor
+25 Damage
+25 Strength

Iron Gauntlets of Agility
1
0 Speechcraft

+1 Armor
+25 Damage
+25 Agility

1 Iron Gauntlets of Power
1
0 Speechcraft

+1 Armor
+25 Damage
+15 Stats

Iron Boots

Iron Boots of Agility
1
0 Speechcraft

Iron Shield

Iron Shield of Power
1
0 Speechcraft

+2 Armor
+15 Stats
Block 5%

Steel

Steel Sword (Right Handed)

Steel Sword of Strength
5
0 Speechcraft

+50 Damage
+35 Strength
3% Chance to Deal 1.5x Damage

Steel Sword of Power
7
0 Speechcraft

+50 Damage
+15 Stats
3% Chance to Deal 1.5x Damage

Steel Hammer (Right Handed)

No Upgrade
3
Steel Hammer
N/A

Steel Axe (left Handed)

Steel Axe of Power
6
0 Speechcraft

+75 Damage
+50 Stats
Bleed: 5% chance to Bleed 3% current life/sec for 3 seconds
Cleave: 10%

Steel Bow (Left Handed)

Steel Bow of Agility
6
0 Speechcraft

+50 Damage
+50 Agility
Bonus Agility Damage within 300 Range

Steel Bow of Power
5
0 Speechcraft

+50 Damage
+30 Stats
Bonus Agility Damage within 300 Range

Steel Staff (Left Handed)

Steel Staff of Defense
5
0 Speechcraft

35 Intelligence
25 Agility
Magic Shield: 10 sec

Steel Staff of Power
5
0 Speechcraft

+30 Intelligence
+15 Agility
+15 Strength
Spell Dmg Reduction: 50%

Steel Staff of Magic
5
0 Speechcraft

+60 Intelligence
Brilliance Aura: +5mana/sec

Steel Cuirass

Steel Cuirass of Power
8
0 Speechcraft

+10 armor
+30 Stats
+5% Spell Reduction

Steel Helm

Steel Helm of Intelligence
4
0 Speechcraft

+4 Armor
+25 Intelligence
+5 Mana Regen

Steel Helm of Power
5
0 Speechcraft

+4 Armor
+25 Stats
Bonus: intel x 2 to Finger of Death

Steel Gauntlets

Steel Gauntlets of Dexterity
5
0 Speechcraft

+2 Armor
+25 Damage
+25 Agility

Steel Gauntlets of Strength
5
0 Speechcraft

+2 Armor
+25 Damage
+25 Strength

Steel Boots

Steel Boots of Agility
5
0 Speechcraft

+3 Armor
+25 Agility
+75 Athletics

Steel Shield

Steel Shield of Power
5
0 Speechcraft

+8 Armor
+15 Stats
Block 7%
Command Aura 15%

​Orcish

Orcish Sword (Right Handed)

Orcish Sword of Strength
12
0 Speechcraft

+100 Damage
+75 Strength
3% Chance to deal 1.5x Damage

Orcish Sword of Power
13
0 Speechcraft

+100 Damage
+30 Stats
3% Chance to deal 1.5x Damage

Orcish Axe (Left Handed)

No Upgrade
11
Orcish Axe
N/A

+155 Damage
5% chance to Bleed 3% current life/sec for 3 secs

Orcish Bow (Left Handed)

Orcish Bow of Agility
18
0 Speechcraft

+75 Damage
+75 Agility
Deadly Range: Bonus Agility damage within 300 range

Orcish Bow of Power
15
0 Speechcraft

+75 Damage
+50 Stats
Deadly Range: Bonus Agility damage within 300 range

Orcish Staff (Left Handed)

Orcish Staff of Defense
11
0 Speechcraft

+50 Intelligence
+75 Agility
Magic Shield: 10 sec

Orcish Staff of Magic
11
0 Speechcraft

+125 Intelligence
Brilliance Aura: +5mana/sec

Orcish Cuirass

Orcish Cuirass of Power
15
0 Speechcraft

+15 Armor
+30 Stats
10% Spell Reduction

Orcish Helm

Orcish Helm of Intelligence
9
0 Speechcraft

+6 Armor
+75 Intelligence

Orcish Gauntlets

Orcish Gauntlets of Strength
10
0 Speechcraft

+5 Armor
+75 Damage
+75 Strength

Orcish Gauntlets of Power
12
0 Speechcraft

+5 Armor
+75 Damage
+30 Stats

Orcish Boots

Orcish Boots of Agility
12
0 Speechcraft

+5 Armor
+75 Agility
+125 Athletics

Orcish Shield

Orcish Shield of Intelligence
13
0 Speechcraft

+7 Armor
+75 Intelligence
9% Block
Bonus: +4000 Dmg to Finger of Death

Orcish Shield of the Warlord
14
0 Speechcraft

+7 Armor
9% Block
Command Aura: 15%

Royal

Royal Sword (Right Handed)

Royal Sword of Fire
21
0 Speechcraft

+250 Damage
+150 Intelligence
5% chance to Crit for 2x Damage
Firebolt: deals 9000 dmg
Bonus: +7000 dmg to Fireball, and Super Firebolt
Bonus: x2 Strength to Daemonic Explosion

Royal Sword of Agility
23
0 Speechcraft

+250 Damage
+150 Agility
5% chance to Crit for 2x Damage

Royal Sword of Strength
25
0 Speechcraft

+250 Damage
+150 Strength
5% chance to Crit for 2x damage

Royal Sword of Power
25
0 Speechcraft

+250 Damage
+75 Stats
5% chance to Crit for 2x damage

Royal Axe (left Handed)

Royal Axe of Strength
20
0 Speechcraft

+275 Damage
+150 Strength
5% chance to bleed 3% life/second for 3 sec.
Cleave: 10%

Royal Bow (Left Handed)

Royal Bow of Power
20
0 Speechcraft

+175 Damage
+75 Stats
Deadly Range: Bonus agility damage within 300 range

Royal Staff (Left Handed)

Royal Staff of Defense
22
0 Speechcraft

+150 Intelligence
+150 Agility
Magic shield: 10 sec

Royal Staff of Magic
22
0 Speechcraft

+300 Intelligence
Brilliance Aura: +10 mana/sec

Royal Staff of the Master
24

As of 6.99e cannot be obtained through enchantment.

0 Speechcraft

+225 Intelligence
+75 Strength
+75 Agility
Mana Burn: 2000

Royal Cuirass

Royal Cuirass of Power
26
0 Speechcraft

+20 Armor
+75 Stats
+15% Spell Reduction

Royal Helm

Royal Helm of Intelligence
21
0 Speechcraft

+8 Armor
+100 Intelligence
+10 Mana Regen

Royal Gauntlets

Royal Gauntlets of Healing
22
0 Speechcraft

+5 Armor
+150 Damage
+150 Intelligence
Healing Wave: 2500 heal on 4 targets

Royal Gauntlets of Dexterity
23
0 Speechcraft

+10 Armor
+150 Damage
+150 Agility

Royal Gauntlets of Strength
24
0 Speechcraft

+10 Armor
+150 Damage
+150 Strength

Royal Boots

Royal Boots of Agility
20
0 Speechcraft

+7 Armor
+150 Agility
+200 Athletics

Royal Shield

Royal Shield of Strength
23
0 Speechcraft

​Diamond

Diamond Sword (Right Handed)

Diamond Sword of Power
37
25 Speechcraft

+ 400 Damage
+125 Stats
5% Chance to deal 2x Damage

Diamond Axe (Left Handed)

No Upgrades
35
Diamond Axe
N/A

Diamond Bow (Left Handed)

Diamond Bow of Power
37
25 Speechcraft

+350 Damage
+250 Stats
Deadly Range: Bonus Agility Damage within 300 Range

Diamond Staff (Left Handed)

Diamond Staff of Defense
25
25 Speechcraft

+275 Intelligence
+250 Agility
Magic Shield:10 sec

Diamond Staff of Magic
29
25 Speechcraft

+525 Intelligence
Brilliance Aura: +15 mana/sec

Diamond Cuirass

Diamond Cuirass of Power
41
25 Speechcraft

+40 Armor
+125 Stats
+20% Spell Reduction

Diamond Helm

Diamond Helm of Intelligence
35
25 Speechcraft

+15 Armor
+250 Intelligence
+20 Mana Regen

Diamond Boots

Diamond Boots of agility

(creates Chronominium boots of agility instead) Not working ver. 6.91a

30
25 Speechcraft

+10 Armor
+250 Agility
+300 Athletics

Diamond Gauntlets

Diamond Gauntlets of Strength
32
25 Speechcraft

+10 Armor
+250 Strength
+250 Damage

Diamond Gauntlets of the Master
33
25 Speechcraft

+10 Armor
+125 Stats
+250 Damage
+20 Mana regen

Diamond Shield

Diamond Shield of Power
35
25 Speechcraft

+20 Armor
+125 Stats
Block 13%

Diamond Shield of Strength
40
25 Speechcraft

+20 Armor
+250 Strength
Block 13%

Chronominium

Chronominium Sword (Right Handed)

Chronominium Sword of Power
56
25 Speechcraft

+600 Damage
+225 Stats
5% Chance to Deal 2x Damage

Chronominium Bow (Left Handed)

Chronominium Bow of Agility
52
25 Speechcraft

+500 Damage
+450 Agility
Deadly Range: Bonus Agility Damage within 300 Range

Chronominium Bow of Time
55
25 Speechcraft

+500 Damage
+450 Intelligence
Deadly Range: Bonus Agility within 300 range
Passive Slow Attack

Chronominium Bow of Power
56
25 Speechcraft

+500 Damage
225 Stats
Deadly Range: Bonus Aility within 300 range
Bonus: x2 intel to Lightning Arrow

Chronominium Staff​ (Left Handed)

Chronominium Staff of Defense
55
25 Speechcraft

+425 Intelligence
+450 Agility
Magic Shield: 10 sec

Chronominium Staff of Magic
55
25 Speechcraft

+875 Intelligence
Brilliance Aura: +25 Mana/sec

Chronominium Cuirass

Chronominium Cuirass of Power
62
25 Speechcraft

Chronominium Helm

Chronominium Helm of Intelligence
50
25 Speechcraft

+22 Armor
+450 Intelligence
+20 Mana Regen

Chronominium Boots

Chronominium Boots of Agility
51
25 Speechcraft

+15 Armor***
+250 Agility
+400 Athletics

Chronominum Gauntlets

Chronominium Gauntlets of Strength
53
25 Speechcraft

+400 Damage
+450 Strength

Chronominium Shield

Chronominium Shield of Intelligence
55
25 Speechcraft

+30 Armor
+450 Intelligence

Ancient

Ancient Sword (Right Hand)

Ancient Sword of the Warrior
80
50 Speechcraft

+900 Damage
+925 Strength
6% Chance to deal 2.5x Damage

Ancient Sword of Power
83
50 Speechcraft

900 Damage
325 Stats
6% Chance to deal 2.5x Damage***

Ancient Axe (Left Hand)

Ancient Axe of Power
85
50 Speechcraft

+1050 Damage
+750 Stats
Bleed: 5% Chance to bleed 3% current life for 3 Seconds
Cleave 30%

Ancient Bow (Left Hand)

Ancient Bow of the Assassin
82
50 Speechcraft

+750 Damage
+750 Agility
Deadly Range: Bonus Agility Damage within 300 range
Decay Aura: -15 armor

Ancient Bow of Power
82
50 Speechcraft

+750 Damage
+325 Stats
Deadly Range: Bonus Agility Damage within 300 range

Ancient Staff (Left Hand)

Ancient Staff of Teleportation
75
50 Speechcraft

+1425 Intelligence
Teleportation

Ancient Staff of Defense
77
50 Speechcraft

+675 Intelligence
+750 Agility
Magic Shield: 10 secs

Ancient Cuirass

Ancient Cuirass
88
50 Speechcraft

+80 Armor
+325 Stats
+35% Spell Reduction

Ancient Helm

Ancient Helm of Intelligence
75
50  Speechcraft

+29 Armor
+750 Intelligence
+35 mana regen

Ancient Helm of Death
80
50 Speechcraft

+29 Armor
+500 Stats
Lifesteal: 10%
Vamp aura: 10%

Ancient Boots

Ancient Boots of Power
75
50 Speechcraft

+20 Armor
+375 Stats
+500 Athletics

Ancient Boots of Agility
80
50 Speechcraft

+20 Armor
+750 Agility
+500 Athletics

Ancient Gauntlets

Ancient Gauntlets of Strength
77
50 Speechcraft

+20 Armor
+600 Damage
+750 Strength

Ancient Gauntlets of Power
80
50 Speechcraft

+20 Armor
+600 Damage
+325 Stats
Cleave: 15%

Ancient Shield

Ancient Shield of Power
80
50 Speechcraft

+40 Armor***
+325 Stats
Block: 17%

Ancient Shield of Hornstruck
85
50 Speechcraft

+40 Armor***
+400 Stats
Block: 17%
Thorns (non aura): 5%

Draconian

Draconian Sword​ (Right Hand)

Draconian Sword of the Dead
105
50 Speechcraft

+1250 Damage
+1000 Intelligence
Banish
Lifesteal: 5%

Draconian Sword of Power
107
50 Speechcraft

+1250 Damage
+500 Stats
6% Chance to deal 2.5x Damage

Draconian Axe (Left Hand)

Draconian Axe of Power
112
50 Speechcraft

+1500 Damage***
+500 Stats
Bleed: 5% chance to bleed 3% current life for 3 seconds
Cleave: 30%

Draconian Bow (Left Hand)

Draconian Bow of Power **
105
50 Speechcraft

+750 Damage***
+500 Stats
Deadly Range: Bonus Agility damage within 300 range

Draconian Staff (Left Hand)

Draconian Staff of Defense
102
50 Speechcraft

+850 Intelligence
+1000 Agility
Magic Shield: 15 secs

Draconian Staff of Magic
102
50 Speechcraft

+1850 Intelligence
Brilliance Aura: +55 mana/sec

Draconian Cuirass

Draconian Cuirass of Power
120
50 Speechcraft

+100 Armor
+500 Stats
+35% Spell Reduction

Draconian Helm

Draconian Helm of Intelligence
110
50 Speechcraft

+36 Armor
+1000 Intelligence
+50 Mana regen

Draconian Helm of Nexacus
300

1 Draconian Helm of Intelligence

50 Speechcraft

+36 Armor
+3500 Intelligence
+1000 Agility
+1000 Strength
+100 Mana Regen
Magic Shield: 10 Secs

Draconian Boots

Draconian Boots of Agility
105
50 Speechcraft

+25 Armor
+1000 Agility
+600 Athletics

Draconian Gauntlets

Draconian Gauntlets of Strength
104
50 Speechcraft

+25 Armor
+800 Damage
+1000 Strength

Draconian Shield

Draconian Shield of Power
108
50 Speechcraft

+50 Armor
+500 Stats
Block: 19% Chance

Draconian Shield of Skulls
125
QUEST ONLY
N/A

+50 Armor
+500 Stats
Block: 19%
Multishot: 3 targets

Infernal

Infernal Sword (Right Hand)

Infernal Sword of Darkness
155
50 Speechcraft

+1750 Damage
+750 Stats
10% Life Steal
Self Invisibility: 60 Sec CD

Infernal Hammer (Right Hand)

No Upgrade
100
Infernal Hammer
N/A

+3500 Damage
Bash 3%
Infernal Bash: 40k Damage
(Activates switches inside Hell)

Infernal Bow (Left Hand)

Infernal Bow of Power
155
50 Speechcraft

+1450 Damage
+750 Stats
+10% Life Steal
+50 Life regen
Deadly Range: Bonus Agility damage within 300 range
Bonus: +20k dmg to Daemonic Arrows

Infernal Staff (Left Hand)

Infernal Staff of Defense
155
50 Speechcraft

+1150 Intelligence
+1500 Agility
Magic Shield: 15 Sec

Infernal Staff of Magic
155
50 Speechcraft

+2650 Intelligence
Briliance Aura: +75 mana/sec

Infernal Cuirass

Infernal Cuirass of Power
171
50 Speechcraft

+120 Armor
+750 Stats
+40% Spell Reduction

Infernal Helm

Infernal Helm of Power **
85***
50 Speechcraft

+43 Armor
+750 Stats
+500 Immolation

Infernal Helm of Intelligence
152
50 Speechcraft

+43 Armor
+1500 Intelligence
+75 Mana Regen

Infernal Helm of Thaerion
200
BOSS DROP ONLY
N/A

+43 Armor
+1000 Stats
+75 Mana Regen
Decay Aura: -50 Armor
Bonus: x2 Intelligence to Finger of Death

Infernal Boots

Infernal Boots of Agility
155
50 Speechcraft

+30 Armor
+1500 Agility ***
+700 Athletics

Infernal Gauntlets

Infernal Gauntlets of Strength
153
50 Speechcraft

+30 Armor
+1000 Damage
+1500 Strength

Infernal Gauntlets of the Fire Demon
125
Boss Drop Only
N/A

+30 Armor
+2000 Damage
Immolation: 500
Cleave: 15%

Infernal Shield

No Upgrade
150
Infernal Shield
50 Speechcraft

+60 Armor
Block: 21% Chance

Divine

Divine Sword (Right Hand)

Divine Sword of Power
210
75 Speechcraft

+2750 Damage
+1250 Stats
8% Chance to deal 3x Damage
Blink

Divine Sword of Heroes
325
75 Speechcraft

+2750 Damage
+2000 Stats
8% Chance to deal 4.5x Damage
Blink
Bonus: x2 Agility to backstab. +50k to Demon Wave

Divine Sword of the Grandfather (Left Hand)
375
Boss Drop Only
N/A

+2750 Damage
+3000 Stats
20% chance to deal 4x Damage
Evasion: 25%
Heavens Light: heals 200k

Divine Hammer (Right Hand)
Divine Hammer of Fate
231
75 Speechcraft

+3250 Damage
+1250 Stats
Bash: 4%
Fate Lightning: strength x2 Dmg
Bonus: +25k dmg to Smite

Divine Hammer of Angels
325
75 Speechcraft

+5000 Damage
+3250 Strength
+1250 Intelligence
+1250 Agility
Bash: 5%
Hammer Strike: Strength x4 Dmg

Divine Bow (Left Hand)

Divine Bow of Power
207
75 Speechcraft

+2150 Damage
+1250 Stats
Deadly Range: Bonus Agility damage within 300 range

Divine Bow of Sealing Light
285
75 Speechcraft

2150 Damage
+4000 Agility
Deadly Range: Bonus Agility damage within 300 range
Sealing light: Agility x3 dmg, stuns for 1.5 seconds, targets spell immune

Divine Bow of the Heavens
325
75 Speechcraft

+2150 Damage
+3525 Agility
+1550 Intelligence
+925 Strength
+75k Life Bonus
Bonus: +25k dmg to Daemonic Arrow

Divine Staff (Left Hand)

Divine Staff of Defense
206
75 Speechcraft

+1750 Int
+2500 Agility
Magic Shield: 15 sec

Divine Staff of Magic
206
75 Speechcraft

4250 Intelligence
Brilliance Aura: +100 Mana/sec

Divine Cuirass

Divine Cuirass of Power
215
75 Speechcraft

+140 Armor
+1250 Stats
+45% Spell Reduction

Divine Cuirass of Heaven
215
Boss Drop or Grand Chest
N/A

+120 Armor
+1750 Stats
+20% Spell Reduction
Devotion Aura: +20 Armor

Divine Helm

Divine Helm of Power**
210
75 Speechcraft

+50 Armor
+1250 Stats
True Sight

Divine Helm of Intelligence
211
75 Speechcraft

+50 Armor
+2500 Intelligence
+100 Mana Regen

Divine Boots

Divine Boots of Agility
209
75 Speechcraft

+35 Armor
+2500 Agility
+800 Athletics

Divine Gauntlets

Divine Gauntlets of Strength
206

10 Rubra Stone

75 Speechcraft

+35 Armor
+1500 Damage
+2500 Strength

Divine Shield

Divine Shield of Power
210
75 Speechcraft

+70 Armor
+1250 Stats
+150 Life Regen
Block: 23% Chance

Demon

Demon Sword (Right Hand)

Demon Sword of Power
262
75 Speechcraft

+3500 Damage
+1500 Stats
8% Chance to deal 3x Damage

Demon Sword of Oblivion
275
Boss Drop Only
N/A

+3500 Damage
+1500 Stats
Lifesteal: 10%
15% Chance to deal 4x Damage

Demon Sword of Diablo
300
Boss Drop Only
N/A

+3500 Damage
+4000 Strength
15% Chance to deal 3x Damage
Diablos Legion: Summon 6 Diablo's infernals
Bonus: x2 Intelligence to Fireball and x2 strength to Daemonic Explosion

Demon Axe (Left Hand)

No upgrade
255
Demon Axe
N/A

+3500 Damage
Cleave: 20%
Bleed: 5% chance to bleed 3% current life/second for 3sec

Demon Bow (Left Hand)

Demon Bow of Power
258
75 Speechcraft

+2750 Damage
+1500 Stats
Deadly Range: Bonus Agility damage within 300 range

Demon Staff (Left Hand)

Demon Staff of Defense
255
75 Speechcraft

+2350 Intelligence
+3000 Agility
Magic Shield: 15 secs

Demon Staff of Hell
260
75 Speechcraft

+3850 Intelligence
+1500 Agility
+1500 Strength
+100 Mana Regen
10% Chance to deal x2 Damage

Demon Cuirass

Demon Cuirass of Power
270
75 Speechcraft

+160 Armor
+1500 Stats
+50% Spell Reduction

Demon Helm

Demon Helm of Intelligence
260
75 Speechcraft

+57 Armor
+3000 Intelligence
+125 Mana Regen

Demon Boots

Demon Boots of Agility
256
75 Speechcraft

+40 Armor
+3000 Stats
+900 Athletics

Demon Gauntlets

Demon Gauntlets of Strength
257

11 Rubra Stone

75 Speechcraft

+40 Armor
+2000 Damage
+3000 Strength

Demon Shield

No Upgrade
245
Demon Shield
N/A

+80 Armor
Block: 25% Chance

Daemonic

Daemonic Sword

Upgrades through Fusion
0
Daemonic Sword
N/A

+300 Damage
+50 Stats
10% chance to deal x2 damage
Daemonic Burn: 1x All Stats damage

Daemonic Bow

Daemonic Bow of Power
325
75 Speechcraft

+3550 Damage
+2000 Stats
Deadly Range: Bonus Agility damage within 300 range

Daemonic Bow of Supremacy
350***
75 Speechcraft

+3550 Damage
+6000 Agility
Trueshot Aura: 30%
BOTO Range: Agility x2
BONUS: x2 agility to Crossshot, Daemonic Arrow, and Ultimate Arrow

Daemonic Staff

Daemonic Staff of Defense
320
75 Speechcraft

+3050 Int
+4000 Agility
Magic Shield: 15 Sec

Daemonic Staff of Magic
320
75 Speechcraft

+7050 Intelligence
Brilliance Aura: +150 Mana/Sec

Daemonic Cuirass

Daemonic Cuirass of Power
335
75 Speechcraft

+180 Armor
+2000 Stats
+50% Spell Reduction

King Daemonic's Cuirass
350

100 Potentia Stone

75 Speechcraft

+180 Armor
+4000 Strength
+50% Spell Reduction
Daemonic Rising: Summons 5 Daemonic angels

Daemonic Helm

Daemonic Helm of Intelligence
325
75 Speechcraft

+65 Armor
+4000 Intelligence
+150 Mana Regen

Daemonic Helm of Supremacy
350

1 Daemonic Helm of Intelligence

75 Speechcraft

+64 Armor
+6000 Intelligence
+200 Mana Regen/Sec
Magic Shield: 15 Sec
Bonus: +1 ultimate summon (summoner), x2 Intelligence to Deathnoir, Fireball, and Verta Deca

Daemonic Boots

Daemonic Boots of Agility
320
75 Speechcraft

+45 Armor
+4000 Agility
+1000 Athletics

Daemonic Boots of Supremacy
350***
75 Speechcraft

+45 Armor
+6000 Agility
+40% Evasion
Aura of Hermes: max athletics/ 200 life regen aura
Bonus: x2 agility to exorcism, feed, and backstab

Daemonic Gauntlets

Daemonic Gauntlets of Strength
325

12 Rubra Stone

75 Speechcraft

+45 Armor
+2750 Damage
+4000 Strength

Daemonic Gauntlets of Supremacy
350

1 Daemonic Gauntlets of Strength

75 Speechcraft

+45 Armor
+3750 Damage
+6000 Strength
8% Chance to deal x3 damage
Bonus: x2 strength to wrath of heaven, claws of darkness, and daemonic Explosion

Daemonic Shield

Daemonic Shield of the One
325
75 Speechcraft

+90 Armor
+2500 Stats
Block: 27% Chance
Mana Shield: 40 damage per mana
​Special Enchantments
Any Enchanted item that doesn't fall into the previous categories is listed here
Name

Req

Lvl

Req

Ingredients

Req

Speechcraft

Stats
Orb of Evil
50
0 Speechcraft

+250 Stats
+50 Life Regen
+10 Mana Regen
Truesight

Bloody Wings
35

1 Worn out Feather (100Charges)

0 Speechcraft

+300 Intelligence
+150 Agility
+100 Strength
+10% Athletics
Summon Gargoyles: 4 Gargoyles of Blood
Bloody ManaL 5% chance to increase mana by 5%
Bonus: x2 Intelligence to undead Feast, x1 intelligence to arcane nova and white missile

Red Amulet of the One
50

25 Rubra Stone

25 Speechcraft
Green Amulet of the One
50
25 Speechcraft
Blue Amulet of the One
50
25 Speechcraft
Element of Earth
75
25 Speechcraft

+300 Stats
+7500 Life
Nature Heal: 45k Life

Element of Ice
75
25 Speechcraft

+30 Armor
Freezing Breath: Slows attacked units
Chilling Touch: Ice damage to nearby units

Element of Fire
90

25 Rubra Stone

25 Speechcraft

+1500 Damage
+500 Stats
Flame immolation: 750 damage/sec

Bloody Wings of the Night
80

1 Bloody Wings (100 charges

25 Speechcraft

+1000 Intelligence
+550 Agility
+325 Strength
+50 Life Regen
+500 Athletics
Summon Gargoyles: 4 gargoyles of Blood
Bloody Mana: 5% chance to increase mana by 5%
Bonus: x2 Intelligence to undead feast, x1 intelligence to Arcane Nova and White Missile

Bloody Wings of the Newbae
175
25 Speechcraft

+3750 Intelligence
+2250 Agility
+800 Strength
Aura of the Newbae: Max Athletics and 500 life Regen
Summon Gargoyles: 6 Gargoyles of Newbae
Bloody Mana: 10% Chance to steal 10% of targets mana.
Mana Burst: 10% chance to deal damage equal to mana when attacked
Bonus: x2 Intelligence to undead feast, x1 intelligence to Arcane Nova and White Missile

Antonidas's Artifact
100
25 Speechcraft

+550 Stats
+100 Mana Regen
+30% Spell Reduction
Healing Wards: 1% Life regen

Random Diablo's Set Piece
Varies

1 Diablo's Set Piece

25 Speechcraft
Random God's Set Piece
Varies

1 God's Set Piece

25 Speechcraft
Prismatic Amulet of the One
200
50 Speechcraft

+1250 Stats
+25% Spell Reduction
Life Steal: 5%
Amulet: teleport to Temple of the One

Mysterious Amulet of Darkmagic
175
50 Speechcraft

+2500 Intelligence
+100 Mana Regen
Mana Shield: 40 damage per mana

Daemonic Wings of the Newbae
350
50 Speechcraft

+6500 Intelligence
+2500 Agility
+1500 Strength
+100 Mana Regen
Wings of the Newbae (aura): 100 life regen and max athletics
Summon Gargoyles: Summons 8 winged gargoyles of newbae
Bloody Mana: 10% Chance to steal 10% of targets mana.
Mana Burst: 10% chance to deal damage equal to mana when attacked
Bonus: x2 Intelligence to undead feast, x1 intelligence to Arcane Nova and White Missile

Cryo Chamber
375
75 Speechcraft

+4000 Intelligence
+1500 Strength
+1250 Agility
+100 Armor
+50 Mana regen
Aura of Slow: 60%
Bonus: x2 Intelligence to Magic Nova, Iceblast, and Frozen Death